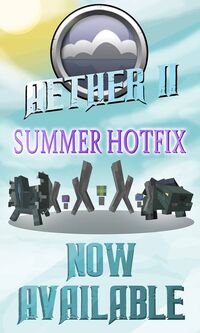 1.6.41[1] is an update to the Aether II mod, also known as the Summer Hotfix, which was released on August 9, 2014, it nerfed Zepyhrs to fix complaints of them being too overpowered, bug fixes, and added the addition of companions and new items.
Additions
Changes
Updated to Minecraft 1.6.4
New textures for the Zanite Block, Icestone, and Quicksoil Glass
Buffed spawn rate of passive mobs
Accessories and donator perks moved to inventory tabs
Parties and notifications moved to chat tabs
Revamped dungeon system
Capes removed to correspond with Mojang EULA changes
Fixes
Zephyrs were nerfed
Lots of bug fixes (like a lot...)
References
Ad blocker interference detected!
Wikia is a free-to-use site that makes money from advertising. We have a modified experience for viewers using ad blockers

Wikia is not accessible if you've made further modifications. Remove the custom ad blocker rule(s) and the page will load as expected.