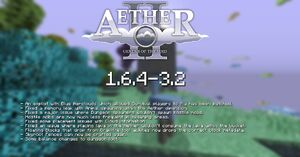 1.6.4.3[1] is an update to the Aether II mod, which was released on September 19, 2014, and was primarily a bug fixes patch.
Changes
Hostile mobs are now much less frequent in spawning areas.
Skyroot Fences can now be crafted again.
Some balance changes to dungeon loot.
Fixes
An exploit with Blue Aerclouds, which allowed Survival players to fly has been patched.
Fixed a memory leak with animal spawning within in the Aether dimension.
Fixed a major issue where Dungeon spawners wouldn't spawn hostile mobs.
Fixed some placement issues with Cloud information
Floating blocks that drop from Gravitite tool abilities now drops the correct block metadata.
References
Ad blocker interference detected!
Wikia is a free-to-use site that makes money from advertising. We have a modified experience for viewers using ad blockers

Wikia is not accessible if you've made further modifications. Remove the custom ad blocker rule(s) and the page will load as expected.