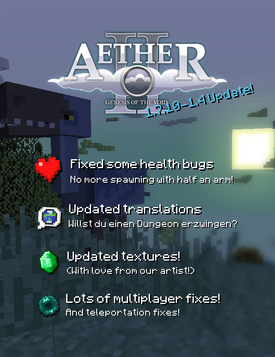 1.7.10-1.4[1] is an update to the Aether II mod, which was released on May 17, 2015. Aside from bug fixes, and aesthetic changes, the AOS is also up again.
Additions
Changes
Fixes
Fixed some health bugs
Fixed lots of multiplayer bugs
Fixed teleportation bugs
References
Ad blocker interference detected!
Wikia is a free-to-use site that makes money from advertising. We have a modified experience for viewers using ad blockers

Wikia is not accessible if you've made further modifications. Remove the custom ad blocker rule(s) and the page will load as expected.