Skyroot Crafting Table
Comments

35
266pages on
this wiki
This page is under major construction, requiring images of every available crafting recipe added or related to the Aether. Please help!
Skyroot Crafting Table





Type

Block


Stackable

64
The Skyroot Crafting Table is an Item which grants the player access to a 3x3 crafting grid, a significant upgrade when compared to the player's previous 2x2 grid. Along with the larger grid comes the possibility to make a large amount of additional recipes previously inaccessible to the player through a 2x2 grid. It has the same basic function and recipe as the normal crafting table from the overworld. An overworld crafting table can also be used in its place.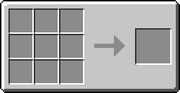 Recipe List - Uncatagorized
Edit
Skyroot Crafting Table
Edit
Wooden Door
Edit
Recipe List - Stairs and Walls
Edit
Recipe List - Tools and Weapons
Edit
HolystoneEdit
Gravitite Edit
Dart shootersEdit
Recipe List - Armor
Edit
Zanite ArmorEdit
Gravitite ArmorEdit
Colored CapesEdit