Dark is a member of The Aether Team. He has previously taken on the design of a tempest as his iconic character for in-game, as well as forums.
He is one of the artists of the mod, together with OscarPayn. He is from Los Angeles and currently lives near Sacramento where he goes to college. He is a double art major and plans on doing game design for a living. His previous work includes work on the DayZ mod for Minecraft, and several other unnotable small mods. 
Just recently, he has taken a larger role in working on currently unreleased content which includes models, textures, and designs. However, it is unclear which of it will be published at this point. He currently plays a large role in the design of the Deep Nether, which has yet to be released to the public. An image from it has been released to the public, though, and it can be seen here. 
He have done several pieces of art for the
Lore
.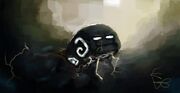 He also has a Youtube channel which he rarely upload videos about him doing the Lore artworks.
Ad blocker interference detected!
Wikia is a free-to-use site that makes money from advertising. We have a modified experience for viewers using ad blockers

Wikia is not accessible if you've made further modifications. Remove the custom ad blocker rule(s) and the page will load as expected.