Dungeon Blocks





Type
Blocks
Durability
No
Decorative Blocks are found within the Aether Dungeons. They are found, from left to right: Bronze Dungeons (and Slider's Labyrinth ), Silver Dungeons and Golden Dungeons . 
Dungeon Blocks cannot be destroyed until the Dungeon's Boss is defeated. However the blocks surounding the pillars of the Silver Dungeons and the Slider's Labyrinth Tower can be mined before the Silver boss is defeated.
Bronze Dungeon Blocks are called Carved Stone, Silver one's Angelic Stone, and Gold one's Hellfire Stone. "Light" versions of each, which glow, can also be found. Pillar blocks can be found on the outside of Silver Dungeons.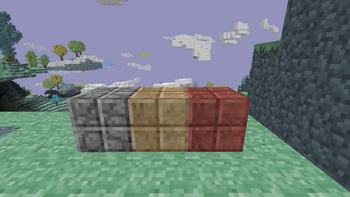 Ad blocker interference detected!
Wikia is a free-to-use site that makes money from advertising. We have a modified experience for viewers using ad blockers

Wikia is not accessible if you've made further modifications. Remove the custom ad blocker rule(s) and the page will load as expected.