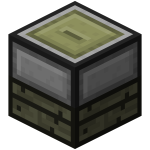 The Freezer was removed after the 1.6.4-4.0 update, and so, is currently completely removed as of the current version of The Aether II.
It was a block that allowed you to freeze certain items. It could be crafted with five Holystone Blocks placed in the shape of a helmet, three Skyroot Planks at the bottom and one Icestone Block at the center. It used Icestone Blocks as fuel. The Freezer allowed you to place certain items such as rings and pendants and then freeze them into ice versions of the item.
Crafting
Freezing
Trivia
The Freezer used to be The Aether's counterpart of the overworld Furnace, however, as of the current version of The Aether II, the Holystone Furnace has replaced it somewhat in function.
Videos
Ad blocker interference detected!
Wikia is a free-to-use site that makes money from advertising. We have a modified experience for viewers using ad blockers

Wikia is not accessible if you've made further modifications. Remove the custom ad blocker rule(s) and the page will load as expected.