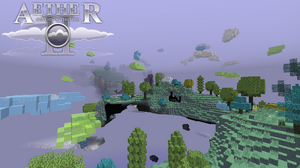 The Aether II: Genesis of the Void or The Aether II is the sequel to The Aether mod, and is set primarily in the Aether dimension. The mod is a complete redo of the original mod and includes a large variety and interesting features. An alpha version of The Aether II: Genesis of the Void was released June 9th, 2013.
Development Team
Programmers
Music
Lore
Artwork
Community Manager
Quality Assurance
Former
Changes
New Blocks
New Items
Gameplay
Mobs
Dungeons
Misc
Upcoming
History
See Also
External Links
References
Ad blocker interference detected!
Wikia is a free-to-use site that makes money from advertising. We have a modified experience for viewers using ad blockers

Wikia is not accessible if you've made further modifications. Remove the custom ad blocker rule(s) and the page will load as expected.